Auto Insurance in Columbus, OH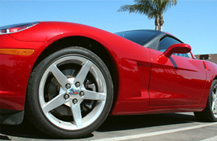 Insurance for Central Ohio Drivers
From parking lot fender benders to major collisions and theft, the costly risks facing drivers are many. At Hoffmann & Associates, our experienced team of agents provide central Ohio drivers with the coverages they need to protect one of their most prized possessions. We routinely insure neighbors in Columbus, Westerville, Delaware, New Albany, Granville, and the surrounding areas.
Protecting Drivers from Accidents, Theft, and More
By working with our clients one-on-one to identify risks, we are able to advise them on the right coverage options. In the best interest of our clients, Hoffmann & Associates requires a minimum of $100,000 in bodily injury coverage per person, $300,000 in bodily injury coverage per accident and $100,000 property damage coverage. We make a point to help our clients understand their options in order to reduce their risk of exposure.
Our range of coverages include, but are not limited to:
Hoffmann & Associates also offers the opportunity for clients to improve their rates by holding multiple policies or multiple vehicles. After working together with our clients to discuss options, we work with high-rated carriers such as Motorists, Travelers, and Pekin to find the best coverage and value. To learn more about our coverage options, please request a quote.
Agents Dedicated to Education and Service
Our staff is dedicated to helping our clients make important decisions regarding their auto protection. We believe strongly in educating our clients and adhere to the phrase, "we don't sell you insurance, we help you buy it." By working to identify exposures, and thoroughly examining a client's needs and lifestyle, we are able to give our customers the ability to make an informed decision about their insurance purchases. While cost is important, our foremost goal is always to protect the assets and futures of our clients.
Once we have worked with our clients to find the right auto coverage, we communicate with our customers regularly to keep policies up to date. To get started, contact us.
Additional Resources
Insurance Buyer's Guides (The National Association of Insurance Commissioners (NAIC))
Small Business Insurance Details and Resources (The U.S. Small Business Administration (SBA))